IB Career-Related programme at OSAO
IB Career-Related programme at OSAO
Educational Consortium OSAO is an authorized IB World School, Career-related Programme (CP). These are schools that share a common philosophy – a commitment to high quality, challenging, international education that OSAO believes is important for our students. For further information about the IB and its programmes, visit www.ibo.org
OSAO has offered IBCP studies since 2004 in cooperation with Oulun lyseon lukio.

Mission
We enable working life competence and continuous learning. Our strategic goal is to broaden and deepen local, national and international competence paths.
We believe in the following values
Fairness
Creativity and courage
Responsibility
OSAO Services unit  aims to fullfill the mission by offering international education in a vocational context. OSAO offers IBCP as an internationally geared education that gives the student both globally valid working life skills and an academically challenging study component that improves their thinking skills and intercultural understanding.
Be all you can with the IBCP at OSAO!
As our students have expressed it:
"Making the world better place one student at the time – your Mom will be proud!"
Structure of IBCP studies
OSAO offers IB Career-related programmes a part of Vocational Qualification in Business.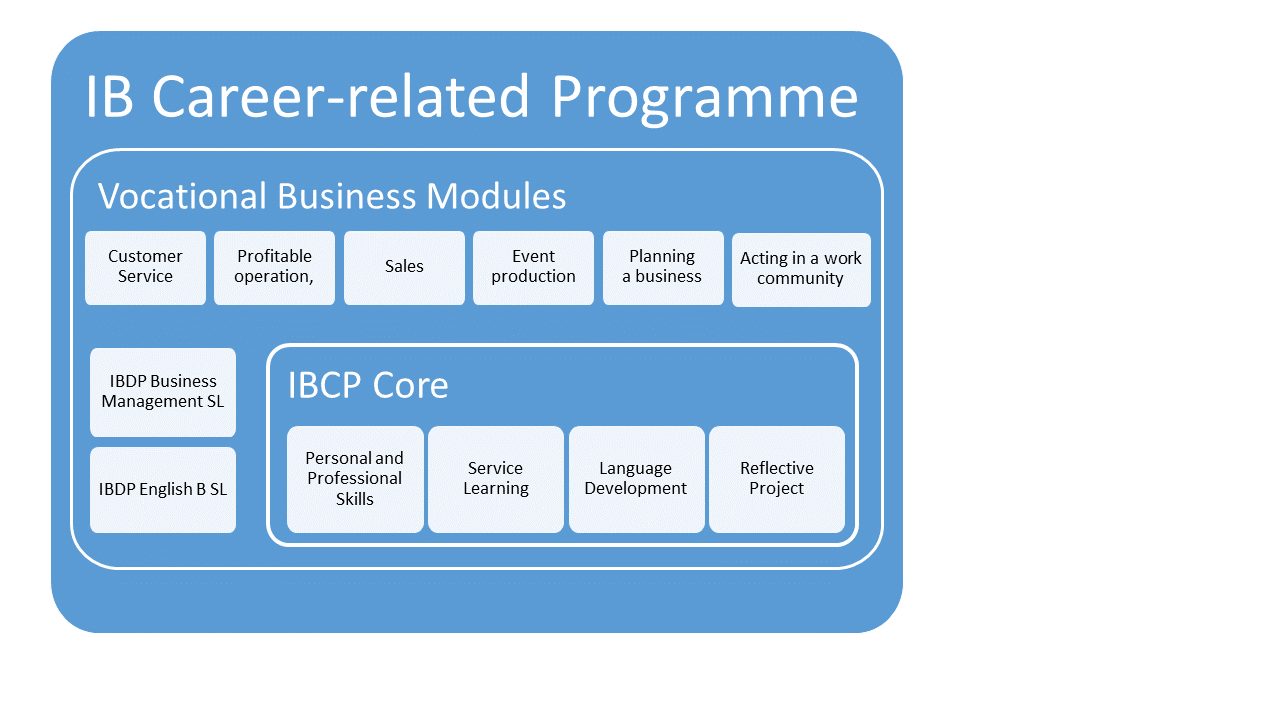 IBDP
IBDP English B, IBDP business management and IBCP core studies are included in the vocational qualification. The scope of studies is the same as in all vocational qualifications, 180 competence points.
Why choose IBCP in OSAO
As our students and their IB teacher have said:
"OSAO  is known for good quality. It strives to offer equal education for people from various cultures. Their target group is especially the youth. They also want people from different cultures to come together and learn to understand and respect each other."
"OSAO works with other educational institutions, NGO's and organisations to develop learning that allows students to flourish intellectually, emotionally and ethically, allowing them to contribute positively in a multicultural world."
"IBCP-programme at OSAO  aims to prepare its students for a career in the 21st century. It also helps students to reach their full potential and encourages them to be flexible and mobile."
Who can apply and how to apply
This program is for those who have completed basic education (approximately nine years) with a good command in the English language.
Upper secondary or higher education graduates can be accepted only in exceptional case if there are free study places.
We can yearly accept a few applicants without the Finnish national qualifications in basic education. In this case we require that the applicant has the necessary capacity to study in the programme and also has a well grounded reason to study in Oulu Vocational College.
Foreign applicants under 18 years old must have a guardian living in the Oulu area.
Further information
Tiina Karvonen, Head of Department
+358 50 462 4720
tiina.karvonen(at)osao.fi
Maria Juntunen, Guidance Counselor
+358 40 637 3094
maria.juntunen(at)osao.fi